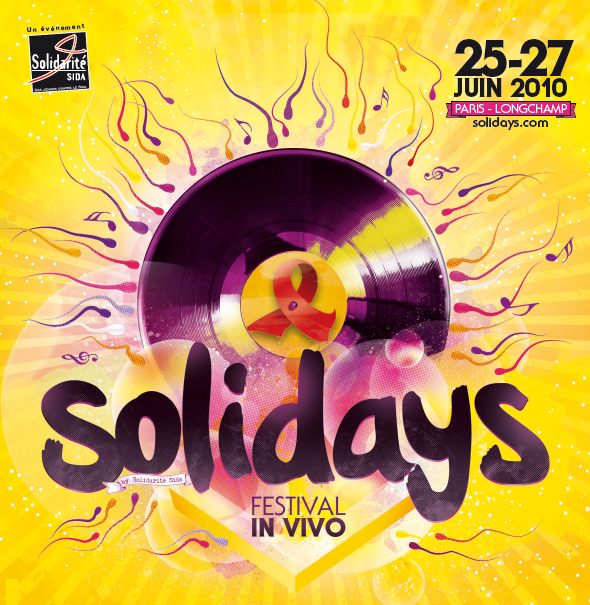 Du 25 au 27 juin 2010 se déroulera l'édition 2010 de Solidays avec une programmation toujours aussi riche. Voici les premiers noms de l'affiche avec 80 concerts prévus.

A Solidays il y en a pour tous les gouts et avec un pass 3 jours à 49€, ce festival reste une excellente occasion de voir de chouettes concerts à moindre cout.
On y retrouvera quelques uns de nos chouchous et de nos coups de coeur croisés cette année comme Skip the Use

ou Hindi Zahra…
Et voici en vrac les premiers artistes annoncés.
Archive, Kasabian, Wolfmother Ghinzu, Wax Tailor, General Elektriks, Hocus Pocus, Féfé,Vanessa Paradis, Olivia Ruiz, Izia, Skip the Use, Staff Benda Bilili, Jeff Lang, Brother Ali, Jacques Higelin, Diam's, Toots & The Maytals, Hindi Zahra, Revolver, Winston McAnuff, Carmen Maria Vega, BB Brunes, Shakaponk, The Inspector Cluzo, Babylon Circus, Gush, Oldelaf, Souljazz Orchestra, Local Natives, Java, Jil is Lucky, Tumi & The Volume, Oxmo Puccino, Ariane Moffatt, Beat Torrent, Chinese Man, Che Sudaka, Smod, Missill, CongopunQ, Meï Teï Shô, Scratch Bandits Crew, Curry & Coco, Jamaïca, Bang Bang Eche, Nasser, Delphic, Phoebe Killdeer & The Short Straws, Fanga,NERD, Rodrigo y Gabriela, Nneka, Crookers, -M-
D'autres noms seront annoncés le 15 avril.
Les tarifs sont les suivants : Pass 3 jours 49€, Pass 2 jours 44€, Pass jour 32€ (Gratuit pour les – de 12 ans)
Mise à jour du 27 mai
Le seul pass restant est le pass 1 jour à 32€.
La programmation complète, jour par jour est la suivante :
VENDREDI 25 JUIN
Wax Tailor, Archive, Kasabian, NERD, Olivia Ruiz, Ghinzu, General Elektriks, Winston McAnuff, Hocus Pocus, Staff Benda Bilili, Revolver, Féfé, Curry & Coco, Phoebe Killdeer & The Short Straws, Smod, Blood Red Shoes, Les Musiciens du Métro…
SAMEDI 26 JUIN
Rodrigo y Gabriela, Diam's, Wolfmother, Jacques Higelin, Toots & The Maytals, Babylon Circus, Hindi Zahra, BB Brunes, Skip the use, The Inspector Cluzo, Oldelaf, Jil is Lucky, Vanessa Paradis, Carmen Maria Vega, Fanga, Tumi & The Volume, Jamaïca, Bang Bang Eche, Mei Tei Sho, Yvan Le Bolloc'h & Ma Guitare, Paris Jeunes Talents…
DIMANCHE 27 JUIN
-M-, Nneka, Pony Pony Run Run, Florence & the Machine, Femi Kuti, Souljazz Orchestra, Izia, Shakaponk, Java, Che Sudaka, Oxmo Puccino, Ariane Moffatt, Jeff Lang, Delphic, Brother Ali, Local Natives, Gush, Tremplin de la Région Île-de-France…