En 1997, Oasis prit plus ou moins l'eau avec Be Here Now, son troisième album. Noel Gallagher avait produit un disque boursouflé et avait (enfin) de la concurrence. Il y avait évidemment OK Computer de Radiohead, Ladies and Gentlemen We Are Floating in Space des Spiritualized et surtout Urban Hymns de The Verve. Difficile donc de s'imposer avec Be Here Now. Au milieu de tous ces disques évoluait Michael Spencer Jones, un photographe anglais… Il collabora avec les deux groupes du Nord à savoir Oasis et The Verve.





Michael Spencer Jones a donc fait les pochettes des trois premiers disques d'Oasis, de The Verve et de Suede. Fasciné par le surréalisme et le travail d'Angus McBean, il a rencontré les The Verve au début de leur carrière et peut-être considéré comme leur photographe officiel.

Comment as-tu rencontré ce groupe ?

Michael Spencer Jones : J'ai rencontré The Verve peu après leur signature chez Hut Records. Le lien s'est fait grâce au graphiste Brian Cannon de Microdot qui connaissait vaguement Richard Ashcroft depuis son passage à la faculté d'arts de Wigan. Mon premier contrat pour ce groupe fut la photographie pour la pochette All in The Mind que j'ai faite en utilisant une lumière infra-rouge. Elle a fait des ravages. La maison de disques l'a adorée et elle m'a demandé de continuer à travailler avec le groupe. Ensuite, Noel Gallagher a vu ces clichés et m'a demandé de travailler pour Oasis.

Te rappelles-tu du jour du shooting ? Quelle était l'ambiance au sein du groupe ?

Michael Spencer Jones : Oui, je m'en rappelle très clairement. L'ambiance était bonne, mais d'un point de vue photographique c'était très tendu car deux photographes avaient été recrutés pour faire ce travail, moi-même et un photographe appelé Chris Floyd. C'était très gênant pour nous deux, alors nous avons discuté de la façon dont nous allions régler le problème. J'ai suggéré qu'il fasse son shooting dans un premier temps. Puis j'ai proposé de faire le mien ensuite pour éviter de travailler en même temps. Il s'était beaucoup plus préparé que moi : il avait apporté un trépied d'éclairage extérieur, mais il a mis du temps à faire ses photos. Richard et le groupe se sont impatientés et sont allés s'asseoir. L'enregistrement d'Urban Hymns avait été stressant et intense pour le groupe. J'ai remarqué qu'ils étaient tous assis et détendus en train de regarder les cerfs dans le parc. J'ai donc rapidement pris une photo d'eux et c'est celle-ci qui a été choisie. C'était très ironique car la pochette d'Urban Hymns est au final une photographie de The Verve qui attend d'être pris en photo pour la pochette de son disque.

Avec quel appareil as-tu pris cette photographie ? Quel type de pellicule as-tu utilisé ?

Michael Spencer Jones : J'ai utilisé un appareil Contax (35 mm) couplé avec un objectif Carl Zeiss 15mm Fisheye. Pour la pellicule, c'est une Kodak.

Où as-tu pris ce cliché ?

Michael Spencer Jones : Au Windsor Park de Richmond qui se trouve juste à côté de Londres.

C'était une époque fantastique pour toi… Tu as photographié Oasis et The Verve à des moments importants de leur carrière. Quels sont tes meilleurs de souvenirs ?

Michael Spencer Jones : Il y a trop de bons souvenirs pour tout dire. Pour Oasis, ce serait probablement le moment où j'ai regardé Noel dans ma chambre d'hôtel après la séance photo pour le single Cigarettes & Alcool jouer tout son répertoire de chansons à un groupe de quatre personnes… Dont moi. C'était vraiment un moment spécial. Pour les The Verve, il y a beaucoup de bons souvenirs et de grands concerts. L'un des meilleurs souvenirs est probablement lié à la séance photo de She's a Superstar. Nous sommes allés dans un pub après avoir passé toute la journée dans les landes du Derbyshire. Tout le monde était gelé. Les boissons que nous avons prises furent donc les bienvenues.

C'était facile de travailler avec The Verve ?

Michael Spencer Jones : Très facile ! Ils étaient géniaux bien qu'ils se défonçaient la plupart du temps.

Quelle est ta chanson préférée de ce disque ?

Michael Spencer Jones : Incontestablement Space and Time.
The Verve – Space & Time
Selon toi, pourquoi ils ont choisi tes photos ?
Micahel Spencer Jones : C'est le groupe qui l'a choisie, pas la maison de disques. Je pense qu'ils ont pensé que c'était la meilleure photo de la session. Ce n'était pas artificiel ou mis en scène, il s'agissait tout simplement d'eux.
The Verve - Urban Hymns
Urban Hymns des The Verve est disponible via Virgin Records.
Retrouvez tous les clichés de Michael Spencer Jones sur son site Internet.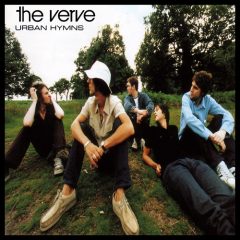 Tracklist
The Verve
-
Urban Hymns
Bitter Sweet Symphony

Sonnet

The Rolling People

The Drugs Don't Work

Catching The Butterfly

Neon Wilderness

Space And Time

Weeping Willow

Lucky Man

One Day

This Time

Velvet Morning

Come On

Deep Freeze
Retrouvez les articles de la rubrique [Micro-Photos] :
English text
How did you meet this band ?
I met the Verve shortly after they were signed to Hut Records, the connection came through Brian Cannon the designer at Microdot who vaguely knew Richard Ashcroft from his time at Wigan Art College. My first commission was the photography for the 'All in The Mind' cover which I shot on infra-red. It went down a storm at the record company and subsequently they asked me to continue to do the photography. Then Noel Gallagher saw the covers which brought me into contact with Oasis.
Do you remember the day of the shooting ? How was the mood of this day ?
Yes, very clearly. The mood was good but from a photographic point of view it was very tense as two photographers had been commissioned to do the shoot, myself and a photographer called Chris Floyd. It was very awkward for both of us so, we discussed how we were going to address the issue. I suggested that he does his shoot first then I'll do mine so were not getting into some fight shooting them at the same time. He appeared a lot more prepared than me, he had brought outside lighting tripod etc. however he did take a long time setting up his photo and Richard and the band became impatient, so much so that they went to sit down.
It had been a stressful and intense time for the Verve making Urban Hymns and so when I noticed that they were all seated and relaxed, watching the deer and stags in the park it quickly struck me that I had not seem them that relaxed in months. So I quickly took a picture of them and this was the picture that they chose for the front cover. So that was very ironic; the front cover to Urban Hymns is a photo of the Verve waiting to have their photo taken for their album cover!
Which camera did you use ?
A 35mm Contax with a Carl Zeiss 15mm corrected fisheye lens.
Which film ?
Kodak negative film.
Where did you take this picture ?
Windsor Park in Richmond, just outside London.
It was a fantastic era for you... Oasis and The Verve... What are your best memories of these days ?
Too many great memories to single out but here goes; for Oasis it would probably be watching Noel in my hotel room after the Cigarettes & Alcohol session playing his whole repertoire of songs to a group of about four of us. That was really special. For the Verve, lots of great memories and great gigs as well, probably getting back to the pub after the 'She's a Superstar' photo session, having spent the whole day on the moors in Derbyshire, everyone was freezing so the drink we had afterwards in a warm country pub was pretty memorable.
How easy was to work with The Verve ?
Very easy, they were great although they were stoned for a lot of the time !
What's your favorite song of this Lp ?
Without question – 'Space and Time'.
In your opinion, why did the label choose your picture as the cover/booklet ?
The band actually chose it not the record company, but I think they thought it was the best photo from the session – it was not contrived or staged it was just them being The Verve.