Ils ont tout pour nous plaire ceux-là… Signés chez Sub Pop, ce quintet de Melbourne a sorti un EP, French Press de fort bonne facture l'an passé. Les revoilà cette fois-ci avec un album qui rappelle, selon le très sérieux The Guardian, les The Go-Betweens et les groupes du label néo-zélandais Flying Nun. Et on ne peut pas lui donner tort.

Les Rolling Blackouts Coastal Fever ont résolu le problème lié à l'écriture de leurs morceaux. En effet, trois des cinq membres du groupe se chargent d'écrire leurs potentiels hits. Les chansons de Tom Russo, de Joe White et de Fran Keaney sont dans le sillage de celles des Replacements et des Go-Betweens et sont une grande bouffée d'air pur.
Quel est votre état d'esprit quelques jours avant la sortie de votre premier album ?
Fran Keaney : On se tient prêt.
Pourquoi avoir appelé ce disque Hope Downs ?
Hope Downs est une immense mine de minerai de fer à ciel ouvert au milieu de l'Australie. C'est un nom approprié pour une prospérité fondée sur le chapardage de la terre qui se trouve sous vos pieds. Mais la raison pour laquelle nous avons utilisé ce nom est plus métaphorique : beaucoup de chansons évoquent le fait de faire un grand saut dans l'inconnu.
Combien de temps vous a pris l'enregistrement ? Ce fut un enregistrement facile ?
L'enregistrement n'a pas été trop difficile. Nous sommes allés dans une belle maison à la campagne en Nouvelle-Galles du Sud dans la ville d'où est originaire notre batteur. Nous y sommes restés 2 semaines et nous y avons enregistré la majeure partie du disque. Nous avons enregistré les chansons en live et nous avons rajouté quelques overdubs de guitare. Nous avons rajouté des voix et des guitares à Melbourne. Nous y avons aussi enregistré The Hammer, la dernière chanson du disque.
Rolling Blackouts Coastal Fever – The Hammer
Quelle est l'histoire de Talking Straight ?
Joe White a écrit les paroles de cette chanson et il la chante. C'est une chanson d'amour qui évoque lux laure avec des réminiscences existentielles. Quant à la mélodie – Joe White avait un refrain et un couplet. Nous avons proposé un nouveau couplet en tant que groupe et nous l'avons travaillé ensemble.
Rolling Blackout Coastal Fever – Talking Straight
Pitchfork dit de vous que tu chantes avec la grâce colérique de Paul Westerberg ?
Ce n'est pas volontaire. Mais je suppose que cela doit être vrai.
TOP 10
Ton disque préféré de 2017 ?
Fake News de Great Outdoors.
2) Melbourne ou Sydney ?
Melbourne.
3) The Apartments ou The Go-Betweens ?
The Go-Betweens.
4) Le meilleur endroit dans le monde pour faire un concert?
Theatre Royale, Castlemaine.
5) Le meilleur endroit dans le monde pour voir un concert ?
The Tote Hotel.
6) Ton artiste français préféré ?
Jacques Brel.
7) Ta bande originale de film préférée ?
Piero Piccioni – Camille 2000.
8) Ton plaisir coupable en musique ?
Balearic.
9) CD ou Vinyle ?
Vinyle.
10) Ton festival préféré ?
Golden Plains.
Rolling Blackoust Coastal Fever
- Hope Downs
Hope Downs des Rolling Blackouts Coastal Fever sera disponible le 15 juin 2018 chez Sub Pop Records/PIAS.
Rolling Blackouts Coastal Fever sont annoncés au festival Pitchfork 2018 (Paris).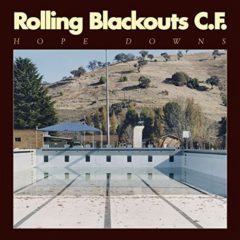 Tracklist
Rolling Blackouts Coastal Fever

-

Hope Downs
An Air Conditioned Man

Talking Straight

Mainland

Time in Common

Sister's Jeans

Bellarine

Cappuccino City

Exclusive Grave

How Long?

The Hammer
English text
What's your state of mind before the release of your first album ?
Readiness.
What's the reason behind the name of your new album ?
Hope Downs is an enormous open cut iron ore mine in the middle of Australia. It is a fitting name for a prosperity predicated on pilfering the earth beneath you. But the reason we have used it is more metaphoric. A lot of the songs deal with the theme of standing at the edge of the great unknown.
How easy was the recording process ? How did long it take you ?
The recording process was not too painful. We went away to a nice house in the country side in New South Wales, to the town where our drummer is from. We were there for 2 weeks and recorded the bulk of the songs up there. We recorded the songs live and did some guitar overdubs. We did some more vocals and guitars back in Melbourne, as well as the last song on the album, The Hammer.
What's the story of Talking Straight ?
Joe White wrote the lyrics to this song and sings it. It's a love/lust song with existential rumblings.
As for the tune – Joe White had a chorus and a verse. We came up with a new verse as a band and worked on the arrangement together.
5) Pitchfork said that Keaney sings with the ragged grace of Paul Westerberg. Do you agree with that ?
Not intentional- but I guess if you can hear it then it's in there.
TOP 10
1) Your favorite record of 2017 ?
Great Outdoors – Fake News
2) Melbourne or Sydney ?
Melbourne.
3) The Apartments or The Go-Betweens ?
The Go Betweens.
4) The best place to watch a gig ?
Theatre Royale, Castlemaine.
5) The best place to play a gig ?
The Tote Hotel.
6) Your favorite french artist ?
Jacques Brel.
7) Your favorite soundtrack ?
Piero Puccini – Camille 2000
8) Your musical guilty pleasure ?
Balearic.
9) CD or Vinyle ?
Vinyl.
10) Your favorite music festival ?
Golden Plains.