Originaire de Brighton, Laish publie cette année son troisième album et bénéfice enfin d'une sortie française grâce à l'entremise du label Talitres.
Membre du collectif folk Willkommen (The Leisure Society, Rozi Plain, Sons of Noel and Adrian), Danny Green aka Laish a déjà publié deux albums : Laish en autoproduction et Obituaries via Folkwit Records. On l'aura compris, plus les sorties passent, plus Laish augmente sa force de frappe. Pour son quatrième album, notre ami anglais sera toujours signé chez Talitres pour l'Europe et signera un deal avec Sony pour le continent américain et un accord secret avec Kim Jong-un pour une tournée en Corée du Nord. Il en va de même avec ses chansons. Pendulum swing prend la suite de son précédent disque et fait les choses en mieux. En témoigne les deux premiers morceaux qui font partir l'album là où les Noah and the Whale sont restés bloqués.
Laish – Learning to Love the Bomb
On peut s'en vouloir. Ces petites merveilles sont disponibles en version live sur le compte Youtube officiel de Laish. Depuis plus d'un an, Love on the Conditional est perdue au milieu de la toile et ne cumule que 162 vues. On s'apercevra que les chansons de Laish n'ont pas besoin de beaucoup (voire d'aucun) artifices pour faire leur boulot. Le signe des grandes chansons.
Laish – Love on the Conditional
Désormais londonien, Laish puise dans la fourmillante capitale anglaise de nouvelles sources d'inspiration : « J'avais besoin de remettre en question mes habitudes, mon mode de vie, une certaine paresse confortable », explique Danny Green.
Vivement que Talitres le fasse emménager à New York !
Laish - Pendulum Swing
Pendulum Swing de Laish est disponible et est édité par Talitres.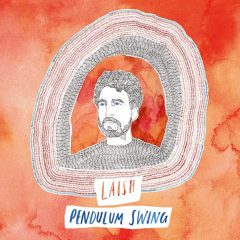 Tracklist
Laish

-

Pendulum Swing
Vague

Learning to Love the Bomb

Love on the Conditionnal

Song for Everything

The Last Time

My Little Prince

Pendulum Swing

Wrote of Freedom

Rattling Around

Gambling

We Haven't Made Any Money

Isolation
Retrouvez les autres articles pour le quinzième anniversaire de Talitres :
[1/15 – Talitres is 15] Elk City
[2/15 – Talitres is 15] Dialogues croisés avec Motorama
[3/15 – Talitres is 15] Do the Stranded Horse
[4/15 – Talitres is 15] Vous ne viendrez plus chez Total Heaven par hasard !
[5/15 -Talitres is 15] 15 ans = 15 photos
[6/15 – Talitres is 15] Le Grand Drift
[7/15 – Talitres is 15] Frànçois, l'homme tranquille
[8/15 – Talitres is 15] Le bel état d'Idaho
[9/15 – Talitres is 15] Le prince Édouard
[10/15 – Talitres is 15] Eko & Vinda Folio : Pop de poche
[11/15 – Talitres is 15] Les choix de Sean
[12/15 – Talitres is 15] Photos : Motorama @ Sonic, Lyon | 02.11.2016
[13/15 - Talitres is 15] Laish - Pendulum Swing